"
Fame is a trip.
"
Carlotta Renee Brown is a main character and the overall main deuteragonist from STAR.
Biography
Carlotta Brown was in a singing group called Mixed Harmony with her best friend Mary Davis in her teen into early twenties. She was in a relationship with their manager Jahil Rivera, which resulted in her getting pregnant. she committed armed robbery in a convenience store to try to get money for an abortion & ended up going to to prison for 3 years. While in prison, she gave birth to her son: Arnold Brown whom she named after her father.
Series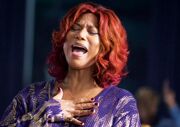 Carlotta is first seen in her church singing the song "One Day". When Simone and Star show up at the church to talk to her, she catches sight of them and recognizes them and gives them a hug. After the service, she along with Star, Simone and Alex are eating from food trucks after church. She finds out that Alex is an atheist, and she tells her that she's going to burn. Carlotta then asks if the girls are looking to stay with her, and Simone says yes. One of Carlotta's challenges in season 1 was accepting who Cotton really is. At the end of the season, she becomes the manager of Big Trouble now known as : Take Three. In the second season, she and Cotton are bonding more. When she starts working at Midtown Sound she and Ayanna but heads because she feels that the group is not getting enough recognition. She became involved with Maurice as they got to know each other. It was until one Natalie Knight ruined their relationship as Carlotta saw them kissing. As a result when Maurice and Carlotta were alone she punched him in the face and left. When her grandson Jayden is in the hospital it makes it harder to keep track of everything around her. Cotton starts to feel neglected as Carlotta is trying to handle everything. When Jahil is shot by one of Cassie's guys, she is filled with heartache as he tells her that he loves her. When he flatlines, she acts like Cotton did when Elliot died. When the doctor tells her what happened, she lost it. She was sobbing her eyes out before he could finish. When she is alone with Jahil after signing the release forms, she kisses him one last time and says "I love you".
References
Community content is available under
CC-BY-SA
unless otherwise noted.