"
Karen: We were supposed to kill ourselves together. I didn't make it.
Simone: But you did make it.
"

Simaren (Simone/Karen) is the relationship pairing between Simone Davis and Karen Williams on the television show STAR ON Fox.
Biography
Karen and Simone first met in The Winner Takes It All because Simone was put in the same juvenile detention center as her. They didn't like each other at first, but things started to grow between them when Karen was moved to Simone's room.
Series
In The Winner Takes It All, Karen and her friend try to rob Simone of her shoes. When Simone refuses, Karen pulls out a knife and asks her agin for the shoes.
In Insecure, Karen sticks up for Simone when Dee starts making fun of her. When Simone tries to thank her, karen tells her she just didn't feel like seeing her cry.
In FUA...Good Night, Karen is placed in Simone's room. She and Simone talk about Dee, and how Kaen wanted to kill herself, and karen starts crying into Simone.
In It Ain't Over, Simone and Karen share stories about their life, and they almost kiss but Carlotta interrupts them.
In May The Best Manager Win, Simone sticks up for Karen when the guard tries to take her away. Simone sees Karen packing later on that day, and Karen reveals that she is leaving, and Simone kisses her to remember her.
In A House Divided, Karen arrives just before Simone almost kisses Angel.
In Climax, Simone offers to let Karen stay at God's Blessings Hair Salon since she as no where else to stay. They then share a kiss.
Notes
They are the first lesbian couple on the show.
Karen is Simone's first love interest.
Simone has stated multiple times that she loved Karen.
Rival Relationships
Angel- Simone Relationship
Timeline
Status: Broken Up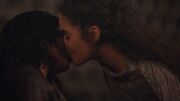 First Relationship:
Started:May The Best Manager Win
Ended: May The Best Manager Win

Reason: Karen was moved to a different facility.
Second Relationship:
Started:Climax
Ended: Rise From The Ashes

Reason: Karen died in a fire.
Community content is available under
CC-BY-SA
unless otherwise noted.