"
Alex: You may think you know us as Big Trouble, but you don't.

Simone: Tonight, we're coming at you with our fresh new name.

Star: Tonight is our first official performance as Take Three.

"

— Take 3 in May The Best Manager Win

Take 3 formerly known as Big Trouble is the major group and only singing trio on the television show Fox on STAR. It is made up of Star Davis, Alexandra Crane, and Simone Davis.
Biography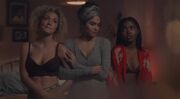 The group was first formed when Alex met Star through Instagram and thought that her voice was a good fit for the songs she was writing. Star, reveals that she had a sister who could sing also, and when Star went to get Simone, they formed a group.
Atlanta Next Fest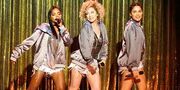 After
Cotton
gave Star the advice to go to the strip club to find a manager, Star finds Jahil, who becomes their manager. When him, Simone, and Alex meet together for the first time he talks to them about enter a competition called Atlanta Next Fest, which would give them a chance to get a record deal.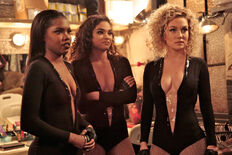 The first part of the contest is for them to submit a demo, and they submit the song
Man
which enters them into the competition. The next part of the competition is a video of a live performance where they perform
I Feel A Song
and move on to the next part of the competition. They get offered a chance to play at a charity event and there they play the song
It's Only You
where Alex is supposed to sing lead but Star sings it instead. They also perform other songs during Atlanta Next Fest such as Make Me Feel, Ain't About What You Got, which is the song that won them the competition, and American Funeral which closed Atlanta Next Fest. After they win Atlanta Next Fest, the get signed to the label Midtown Sound.
Midtown Sound
Take Three was signed to the label Midtown Sound after they won Atlanta Next Fest. For the first five months of them being there, they were under the leadership of Jay Holland, who was the president of Midtown Sound. According to Carlotta, he had been putting them with bad producers the whole time they've been there and demands that he gives them better ones. He is later unable to hold up that deal because he gets fired, and Ayanna Floyd takes his place as label president. When in office, she immediately criticizes the girls, says their songs are uninspired and points out everything that is wrong about their group, making the girls immediately dislike her. She threatens their position at the label, so they often act out such as making a music video, crashes Noah's performance, and performing at Ayanna's party, even though they were kicked out. However, after Take Three helps Ayanna sign GiGi Nixon to Midtown, Ayanna starts to treat them a little better, and even gives them producer rights. However, they still have their ups and downs, especially when Ayanna becomes the temporary guardian of Simone.
Members/ Roles
Songs
I Bring Me
Break Yo Chest
It's Alright
Man
Unlove You
It's Only You
Sun Comes Up
Suga
Make Me Feel
Ain't About what You Got
American Funeral
Bad Bish
Pull Up
Don't You Worry
Time
Damn Daddy
Imagination
It Wasn't Me
Spotlight
Believe
Come And Talk To Me
Community content is available under
CC-BY-SA
unless otherwise noted.